Best Used Dirt Bike [Ultimate Guide To Save Money]
Looking to buy a dirt bike but can't afford a new one? Not everyone has 10k cash laying around, and it's not a financially wise decision to take out a loan for a depreciating toy.
So, now that you've discovered my article, I'm going to show you the best used dirt bikes I have found. Whether you're looking for the cheapest, most reliable, or just a good beginner bike, my list will have at least one option for you.
Reasons To Buy A Used Dirt Bike
Buying a new dirt bike definitely has its advantages, such as it being ready to ride and not having any problems. But that comes at a cost. Hence why so many of us dirt bikers choose to look for a good deal on a used dirt bike, whether it's a 2 stroke or a 4 stroke.
You don't want to get screwed over with a ticking time bomb, so you must look the bike over for signs that it's been properly taken care of.
With that said, the top reasons to buy a used dirt bike are: You can save thousands of dollars that can be used to actually go riding, you might find a bike that's already set-up the way you want, and everything is broken-in.
2 Stroke vs 4 Stroke: Which Should I Get?
Not sure what number of strokes you want in a dirt bike? The 2 stroke vs 4 stroke battle will forever be there, but they are both good options, even if you're a new rider.
Simply put…
A 2 Stroke:
Engine is more simple to work on
Requires mixing gas & oil (unless it's an oil-injected bike)
Better power-to-weight ratio
New enduro 2 strokes are great for trail riding
A 4 Stroke:
Lasts a little longer before needing a rebuild (unless you don't maintain it)
Engine rebuilds are generally more expensive (sometimes exponentially so)
Broader power-curve (although newer 2 strokes are comparable)
Modern 4 strokes are easy to ride faster in most cases
What Is The Best Used Dirt Bike To Buy?
So, what's the best used dirt bike then? Well, there's no best dirt bike of all time that will be perfect for everyone. It really depends on your needs as well as your budget.
I'll give you a list and then explain which bike is best for what.
With that said, the best used dirt bikes are:
Honda CR80/CR85 (96-07)
Yamaha YZ125 (99-04)
Honda XR200 (86-91)
Kawasaki KDX200/220
Yamaha YZ250F (03-09)
Suzuki RMZ250 (08+)
Honda CRF450R (08 or 12)
What Is The Most Reliable Dirt Bike Brand?
Short answer: Yamaha
Long answer: It depends on the year and dirt bike model.
Yamaha has been known to make some of the best overall bikes in the industry since the mid-late 90s. They may not always be the fastest or the best at everything, but the competition bikes especially are almost always solid platforms that perform well and last a long time.
These days, pretty much any new dirt bike is going to be about as reliable as the other color (brand) bikes in its class. It really just depends on how well you take care of it.
There's the odd-case of "First-year models" that have a hiccup or two when a brand releases an all-new bike, but they're usually sorted out by the end of the first year of production.
When comparing a trail bike to a motocross bike, a low-performance trail bike will typically outlast a high-performance mx bike.
What's A Good Price For A Used Dirt Bike?
Now that's a loaded question. If I'm buying a dirt bike, a good price for me would be free!
All jokes aside, you must know that there are many variables involved when determining a good price for a used dirt bike. 
The top factors include: year and model of bike, the condition it's in, and the local market value. 
This means that a good price for a used 10 year old 250F mx bike could be $2000 in one part of the country, while in another area you might have a hard time finding one for under $3500. 
It's all about supply and demand. 
Honda CR80/CR85 (96-02/03-07)
The 1996-2002 Honda CR80 is an excellent machine for 11-15 year olds that are too big for a 65cc, but are not ready for a 125 two stroke or 250F. They have very peaky motors, and if you put a 70 pound kid on one, they can turn lap times just as fast or faster than the big bikes.
Honda changed to the CR85 in 2003, but not much changed other than the body/plastics. The '96-'02 don't look quite as good, but they are just as fast, and can be had for hundreds less. '96 was the first year of the better performing inverted forks.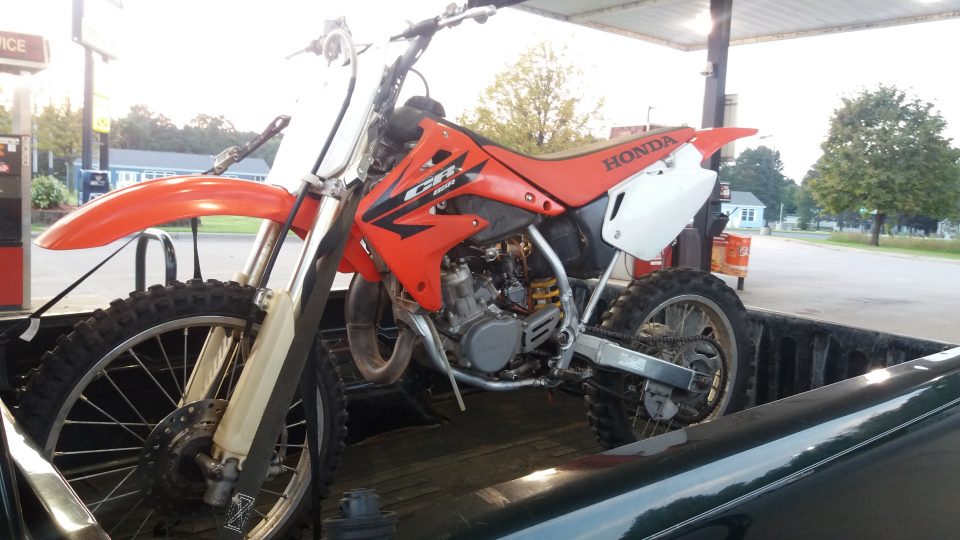 There is the regular sized CR80 with 17/14″ wheels, and there is the "Expert" model with 19/16″ wheels. There are no differences between the engine and chassis; just the wheels and any other parts to accommodate the larger wheels so they don't hit anything if bottomed-out. 
A Good Used MX Bike For Teens
The CR80R Expert is great for bigger kids that need a taller seat height, but aren't quite ready for a full-size motocross bike. They may be a little harder to find, but are well worth it if you need the extra couple inches, even if it costs an extra hundred or two compared to the standard version.
What's Hot?
It's fast
Great suspension and handling
Light-weight
Cheap race bike for kids
Easy to work on
Cheap maintenance and rebuilds
Still competitive
It's red
Easy to kick-start
What's Not?
No power-valve, making it very peaky with no bottom-end power
Bad single-track bike unless you can keep it on the pipe
Top-end service intervals are more frequent if ridden hard
Clutch is more difficult to get used to for first-time rider
Doesn't have the updated look of the 85's (Can be converted)
If you're looking for a light and very fast race bike or play bike, a '96-'02 cr80 is an affordable route. 
However, I had one and tried riding single-track trails with it. It took a little bit of getting used, but I eventually got used to it having no bottom-end torque. If you're getting stuck on a hill, you have to downshift at least once and/or slip the clutch, otherwise it's not going anywhere. 
Although I loved how light the bike was, the handling, and the suspension, I wouldn't recommend it if you're strictly trail riding.
What To Look For
Finding a clean and unmolested CR80 may be a challenge, depending on where you live. If you're patient, one will always pop-up sooner or later. Many of them were ridden hard by kids, and not properly maintained. Most of the maintenance required on a CR80 is oil and air filter changes, top-end rebuilds, suspension servicing, chain and sprockets, and bearings. Many people will say that the top-end was just rebuilt when you go to look at a used one. However, if they don't have receipts to prove it, chances are it wasn't, or it was done wrong. A top-end is cheap, but if you don't fix it till it blows, your bill can be much higher. Better safe than sorry.
Look the bike over well, making sure everything is straight (wheels, frame, subframe, bars, etc), and functions properly. You can usually tell if a dirt bike has been well maintained or not. Due to the fact that most of them need some TLC, a nice one will probably cost a little more.
Price: $500-1500
You shouldn't pay any more than 1500 bucks for an '02 CR80 in good shape. They are great bikes, but it's already 10+ years old, and bikes gradually lose their value over time. If you don't mind doing a little work, you may be able to find some CR 80's for around $500 that are complete but need a few things.
Yamaha YZ125 (99-04)
Yamaha's YZ125 has been a standard for the 125 two stroke class for decades. Other than the aluminum frame on the 05+ and the updated suspension, the 99-04 years are pretty similar. It's still known as one of the best 2 strokes to buy.
The engine always had good midrange torque for a 125cc mx bike, making a nice and predictable power curve. 
In 2002 the major updates were a narrower frame and a 5-speed transmission, as well as the bodywork. 
The frame definitely feels thinner and more flickable under me compared to the 01 model. 
A Good Used MX Bike For Under 2000
The YZ125 is a great entry level motocross bike if you want to get into mx racing. It's affordable, easy to ride, and it's reliable.
There's plenty of mods available, and it's easy to rebuild the engine when it wears out or gets low on compression.
What's Hot?
High supply of used bikes and parts
Simple and effective mx bike
Easy to work on
Lightweight
Good overall power for a 125cc
Good handling and suspension
Bad at nothing for mx racing
What's Not?
It's tall (hard to get used to if you're short and new to riding)
You have to mix gas
Engine maintenance may be more frequent than a larger 4 stroke
02-04 5-speed is harder to dial the gearing in
What To Look For?
There's so many available in the used market, but they are often abused and not maintained.
The YZ125 never had much for common failures, but there's some basics you should look for when looking at a used one.
The air filter and air box should be clean or at least close to it. If it's filthy or the owner refuses to let you see it, that's a big red flag and means it probably wasn't maintained well or at all.
Check the frame and subframe for bends and cracks. If it's been flipped, you'll be able to see from behind that the subframe, exhaust, and/or handlebars are bent.
Cost: 800-2200
The price of a used YZ125 will vary greatly on the current market and the condition the bike is in. 2 strokes have gone up in value in the past 10 years, so be sure to check around for average prices that everyone is asking to compare.
Honda XR200 (86-91)
Honda XR line-up is a straight-up classic. They may not be the most high-tech bikes out there, but that's why we love them so much; for their simplicity and ease of use, as well as fun factor! If you ask someone that's owned an XR200 for a number of years, they will tell you that it's one of the best trail bikes made if you want something easy to ride, a shorter seat height, but still has enough power for most anything you come across.
The XR200 changed a few times over the years before they discontinued them, but most of the changes were done before 1992. The Pro-Link Suspension came out in the early 80s that made this bike ride nice with good handling for a four-stroke trail machine.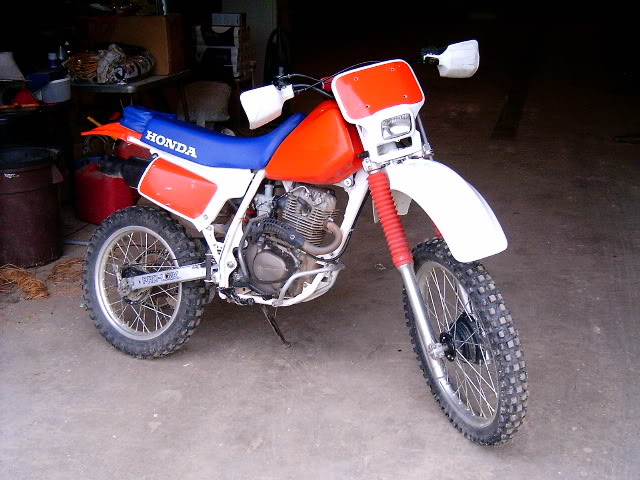 However, the engine configuration didn't get sorted until 1986. '86-'91 are known to be the best years for Honda's 200cc trail bike because of its low center of gravity, good suspension and engine combination. It was also fairly light because there wasn't much "added junk" on the bike compared to some newer dirt bikes. Dry weight was under 220lbs for those years.
In 1992, Honda took the different route and de-tuned the suspension, thus making it more of a plush kids dirt bike with a lower seat height. The forks and shock had less travel and didn't perform as well. The rear shock was also not re-buildable like the previous generation was, and provided underwhelming performance, to say the least.
That's not to say they aren't still great woods bikes after 1991, because they still had the same great 200cc powerplant. You can even swap suspension components onto the later models if you want to spend some cash to make it a better 'woods weapon'.
What's Hot?
Bullet-Proof XR engines
Simple and easy to maintain
Easy to kick-start
'86-'91 has good suspension and headlight/capable
Cheap trail bikes
They hold their value
Simple mods to un-cork it (intake/exhaust)
Lightweight
Many parts interchange with other XR's
What's Not?
Harder to find because no one wants to sell them
1992+ and 2000+ models got suspension downgrade
Not as fast as most modern trail bikes
No E-start
Drum Brakes
What To Look For?
A lot of XR200's have been used and abused. However, if it was maintained at all, one with a lot of hours can still be a good buy. There really isn't a whole lot you need to do with the XR engines, other than regular oil and filter changes, as well as keeping the bike clean.
The main things to check for are worn out parts, such as chain, sprockets, wheel bearings, and suspension components. Has the engine been modified? Many people put big-bore bore kits on them, so just be careful when looking at one. Is the engine making excessive noise (timing chain/piston/valves) or smoking? If so, it will need to be looked at and probably rebuilt.
Always check to make sure there's oil in the engine. Some people ride the wheels off of these dirt bikes and are too lazy to do simple maintenance. If you don't see any oil, walk away or expect to do an overhaul and re-adjust what you're willing to pay for it. A top-end rebuild is fairly cheap and easy to do with an OEM service manual, but expect the rest of the bike to be neglected as well.
XR200 Cost: 400-1500
If you get lucky, an 80s XR200R may only cost a few hundred bucks if it has been sitting in someone's garage for years and needs some TLC. If you want a lower seat height for training people at the cost of a couple inches of suspension travel, the 90s XR200's are still an excellent choice. Same great engine, and the forks are still the same, but they have a couple different internal parts that lower it.
Good Used Dirt Bike For Under 1000
Any XR200R is a great choice if you want a lightweight, durable, easy to ride trail bike. There's guys out there that race hare-scrambles and enduros and do really well with them. Some simple suspension changes can go a long way in making it ride better if you're more experienced and want a fun little trail bike.
If you want to take your XR200 to the next level, there's many easy and cheap mods available. Some parts can simply be swapped out for a better performing and/or lightweight part from a different model Honda. To read Part 1 of XR200 Mods click here.
Kawasaki KDX200/220
The Kawasaki KDX200 or 220 was a longtime favorite trail and enduro dirt bike for many. While being a fun and snappy 2 stroke, it was still smooth enough and easy to ride for beginner riders.
If you're trying to figure out if a used KDX200 is the right dirt bike for you, this review will guide you through the details of what you'll be getting, both good and bad.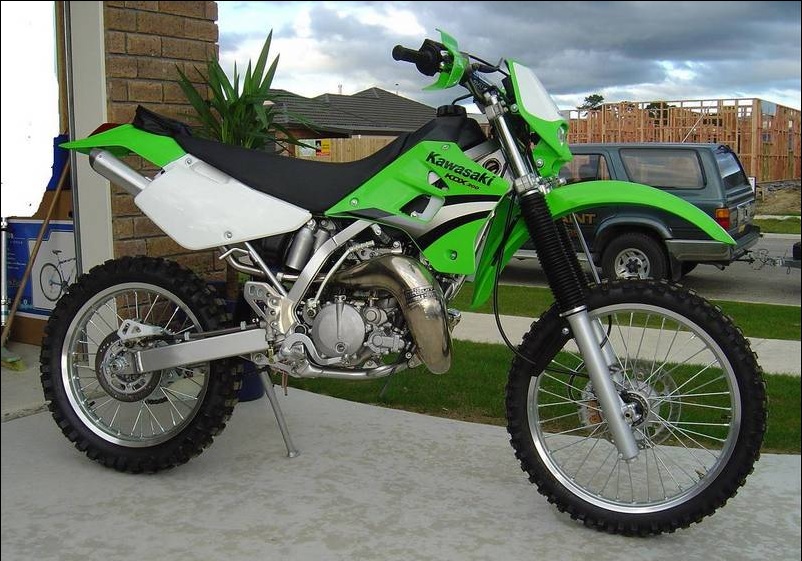 Why Kawasaki stopped making them I'll never know, but there are a lot of features that owners like about the KDX. Yes, you have to mix gas, but that's all a part of the fun. Besides, all of your riding buddies will LOVE that smell when they ride behind you!
Power Delivery
The power spread that a KDX200 or 220 puts out is one the main reasons why this is such a great trail rig.
I personally like the snappy power-band of a two stroke motocross bike, but you sometimes need something more docile for the woods. Kawasaki built the KDX with a broad power curve, making it much easier to get through tough, single track trails with less clutch work.
Suspension
For a trail bike the KDX has nice and plush suspenders. It rides smooth and consistent for a casual trail rider, but if you plan on racing with it, you'll want some stiffer springs. It's a little bit outdated, but if you're mechanically inclined, quite a few people have swapped out the forks from a much better performing KX125.
Another great thing is that they are very reliable. You should have no problem getting 200+ hours on the stock top end if you do your regular oil and filter changes.
What? I Can't Hear You!
No joke, this has got to be one of, if not THE, quietest dirt bikes I've ever ridden. With the stock exhaust system, if the tail pipe isn't pointed towards you when the bike is running, you probably won't even hear it. Sure, it will sacrifice some power, but if you ride in a noise-conscious area, having a quiet dirt bike is a must! Too many riding spots get closed down due to people complaining about noise. So, the best way to prevent that is to go stealth mode, and the KDX does just that.
What's Hot?
Quiet
Reliable
Broad power-band
Light for a trail bike
Easy to ride
Plush suspension
Can be street-plated in many states
What's Not?
Suspension is outdated
Discontinued after '06
No E-start
Not as much torque as big 4-strokes
What To Look For
These dirt bikes are so reliable that not much goes wrong with them if the owner does regular maintenance. How often was the oil changed and what does it look like? Is the air filter clean? Does the engine have good compression with no knocking or unusual noises? Other than that, just look at everything for battle scars. A lot of KDX's were put through their paces as a hardcore trail rig, so look for dents/bends/cracks in the pipe, radiators, frame, forks, handlebars, pegs, levers, as well as the wheels and swing-arm for any play in them. If you can wiggle them back and forth, they'll need new bearings.
They may have mellow power to start out with, but doing some easy and relatively cheap mods, such as aftermarket exhaust, removing air-box lid, and porting will open these bikes up more. Just remember that a better pipe will increase noise, and removing parts such as the air-box lid will increase the chance of getting water inside.
Cost: 800-2000
The cost will depend on two main factors; what year the bike is, and what kind of shape it's in. 1989 was the first year of the liquid-cooled engine. It was more powerful, had better suspension, rear disk brake, better frame, and was able to do a lot more, despite putting on a few extra pounds. This model lasted until 1995 when it got another re-design. It's new perimeter frame, as well as modifications to the engine, suspension, and brakes made this an overall better package. The KDX220 was released in '97, which was identical to the 200 except that it had a larger bore size to give it a higher displacement.
If you can find the older model for really cheap and just want a trail bike for casual riding, it's a great place to start. The later models handled a little better, along with some more power, so that would be the better choice of the two. It may cost a little more, but finding a clean and well maintained KDX will save you time and money in the long run. Buying a cheap, but hacked up bike will only end up causing trouble, both off and on the trail. 2006 was the last year for the KDX lineup ('05 for the 220R), but they will be hard to find since most owners would rather keep riding them than sell their extinct trail machine.
Yamaha YZ250F (03-09)
This month we'll be looking at the 2001-2005 Yamaha YZ250F. It was the first 250cc four-stroke motocross bike on the market. Although you may not see as many fast riders on these bikes anymore, they are some of the most reliable race bikes you can own.
'01 and '02 were very similar bikes, although the crankshaft had slight modifications due to occasional failures. I didn't hear much about this, but it must have caused problems with certain batches. These two years had manual decompression, which made it more difficult to start. Once you got the routine down it wasn't very hard, it was just a little more time consuming.
In '03, Yamaha made some changes to the chassis, including the new aluminum subframe. They also added an auto-decompression mechanism to one of the camshafts (a common swap for an '01-'02). There weren't many changes through '05, so finding a low-hour '03 would be just about as good.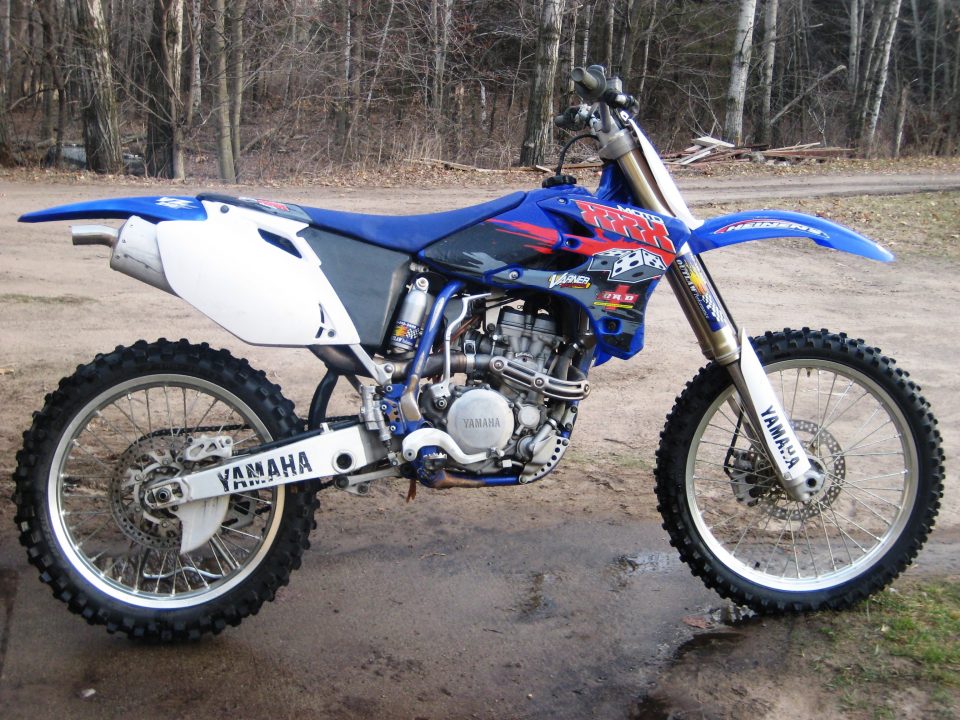 What's Good?
These were great race bikes for someone that didn't want to stick with a two stroke.
They're very torquey for only being a quarter liter, but the power-curve is smooth and broad.
They will last for years if they are maintained with regular oil and filter changes, as well as checking valves and timing chain clearances.
They can be had for dirt cheap because they are "outdated"
What's Bad?
They are steel-framed and weigh a little more than new 250F's.
Some riders don't like their handling (or lack of) characteristics.
They don't have as much peak horsepower as other 250F's.
They are getting old, and many of them were neglected, making it harder to find a clean one in good shape.
What To Look For
A lot of these were used as race bikes, or by young riders that didn't take care of them. As opposed to an "old and beat up 125" where you could put a few hundred bucks into it and it'd be ready to rip, four strokes can be a lot more costly in the long run. Try to stay away from YZ250F's (or any for that matter) that have a million hours on them.
Stay away from bikes that have had a lot of engine work to them. If they have under 150 hours on the bike, the piston, rings, valves, and timing chain should be about the only things that have been replaced.
Oil, oil filter, and air filter changes are what keeps this motocross bike going. Ask the owner how often he/she replaces/cleans them. They should be changed every 5-10 hours, depending on what kind of riding you do.
Just look the bike over really well. You can usually tell pretty quickly if the bike has been maintained, or if it was put away dirty after every ride.
Price: $800-1500
You should be able to find a nice, clean '03-'05 YZ250F for 1500 bucks or less. They aren't worth any more, and abused ones are worth considerably less.
This ended up being a little longer than expected, but now you have an even greater understanding of the older YZ250F's. Don't be afraid to buy something a little older if you're on a tight budget. They're still great race bikes if you want a cheap 250F. Just keep your eyes open for one with lower hours.