XR100/RM80 Conversion Pit Bike Build – Is It Possible? Pt. 1
No, this isn't like one of those forum threads you see posted by some 12 year-old wondering how to make their xr100 fast enough for motocross racing. This is taking one of, if not the best, all-around and most reliable engines for adults and kids-alike, and placing it into a much more race-suited and agile chassis.
I've seen many of these builds from people in their small garages or workshops, and wanted one so bad that I just decided to do my own build to see what I could come up with. This is my first XR100 conversion bike, so it may not look factory in the beginning. I am doing this to show that with some basic and relatively inexpensive shop tools, someone can do this in their own garage on a budget, as it will be one of the funnest pit bikes to ride for us adults.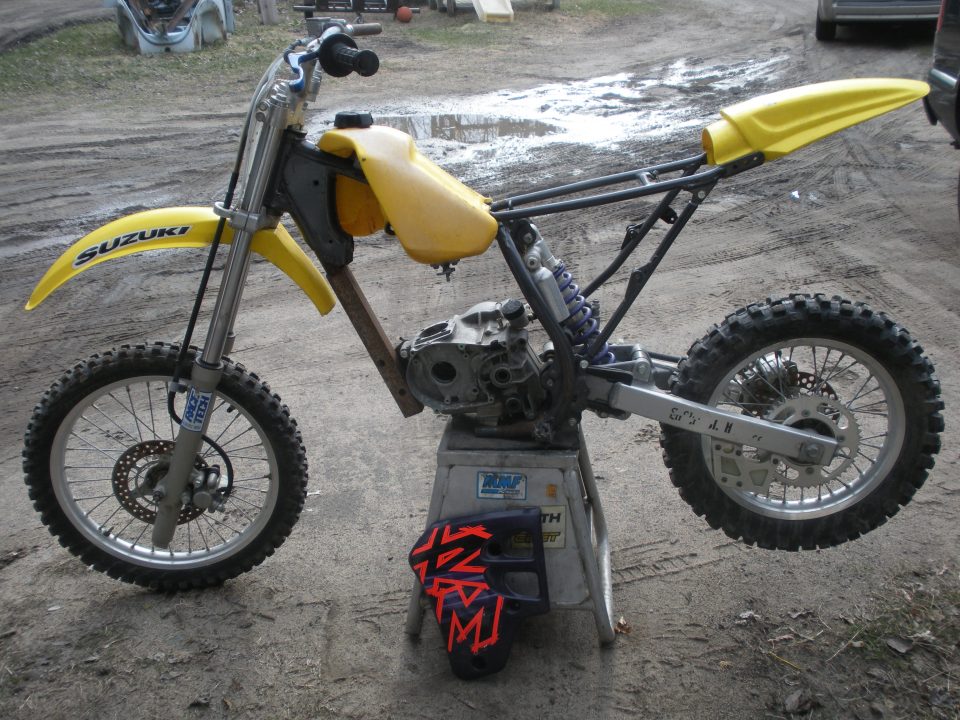 To get this project started, I happened to come across a rolling '97 Suzuki RM80 that someone had started doing the conversion on. Luckily they didn't go too far, so it was the perfect candidate since I picked it up for pennies. Most of these conversions are done with a Honda CR80/85R chassis, but I happened to find this Suzuki first. If I like it enough, I plan on building more of these conversion bikes. And that is when I will fix any issues I come across with this first build and take the time to make things look a little nicer. In addition, I'd like to try different bike combinations, such as a CR85 or YZ85 for the chassis, and possibly a TTR125 or DRZ/KLX125 for the transplant engine.
Here is how I got the roller…. I know, not much to look at, but when it's finished, it will be more than worth the work. As you can see, the cradle has already been cut, and the previous owner started the build but gave up. Fortunately, I got a junk XR100 engine that I can use to mock up all the mounts (very useful because I didn't have an XR100 yet).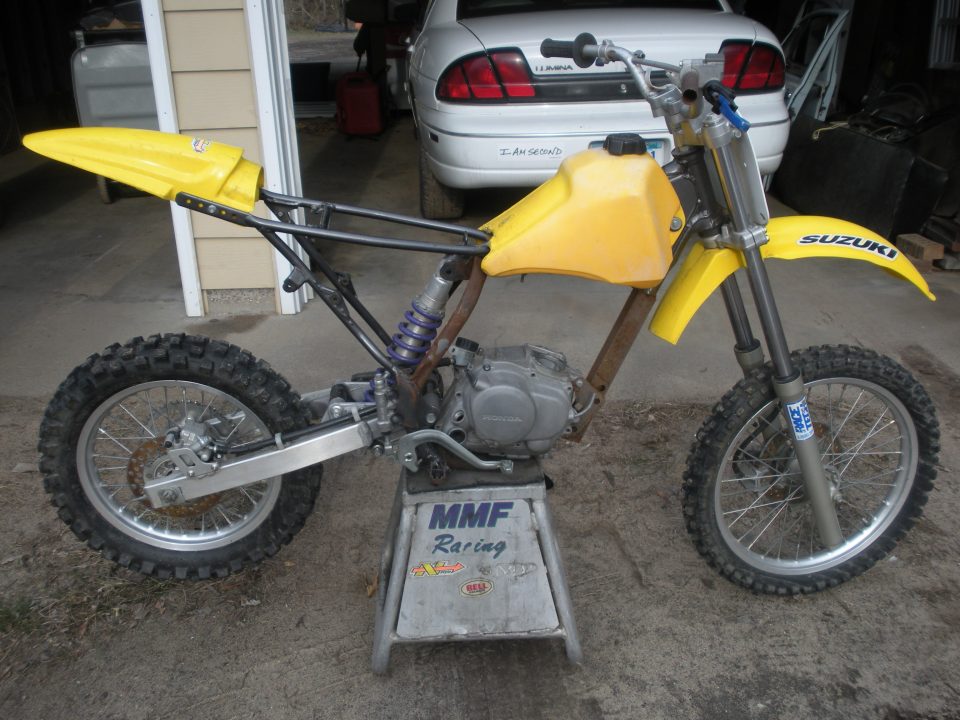 Since this is such large project with so much information and lots of pictures (I know how everyone likes pics), I'm going to separate this into a few different parts. Next part will be tear down and engine mock-up, so stay tuned if you want to see how one of these is built in a garage…