Learn How To Safely Ride Your First Dirt Bike So That You Don't Crash & Get Hurt… Even if you're 50+ years old and don't have time to practice
Get the step-by-step system that helps people just starting out or getting back into riding off-road after 20+ years learn how to confidently ride a dirt bike so that you skip all the common mistakes beginners make that cause you to crash hard, even if you have no experience on a dirt bike.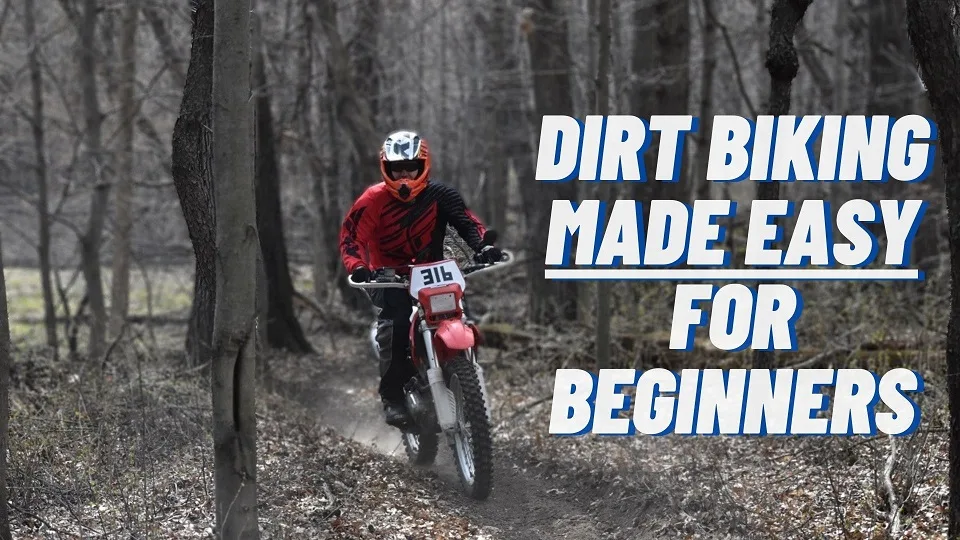 ---
Chris is stalling less and less each time he rides and noticed a big difference in his riding right away!

"Kelley was a professional from start to finish. He showed me the basic ins and outs of a dirt bike and how to operate it before riding! He was patient in his instruction, knowledgeable and diligent in asking me how I was doing throughout my experience! I highly recommend anyone looking to give dirt biking a try to call Kelley to learn, he's a great teacher!!"

-Derek E. (Age 29)
"I was having trouble with my clutch control and kept stalling, but then Kelley showed me some drills and it started improving! He has helped me grow on my dirt biking journey already, with his easy-to-follow instructions. I'm excited to keep getting more comfortable on the bike!"

Cecily F. (Age 15)
---
Is Learning On Your Own the Best Way To Go?
Being a self-taught rider may not be the best way to build your riding skill and confidence while reducing the risk of injury.
It's okay if you think that. There are plenty of tutorials on the internet that show you how to ride a dirt bike, right?
But, if you've fallen for that trap then I bet you're afraid to ride your first dirt bike or get intimidated every time you go for a ride and don't have any more confidence than you did 3 months ago.
If learning on your own was the best way to go, then everyone that did that would be a safe & confident rider within 6-12 months and we know that's not the case.
You see, when you try to figure it all out on your own, you're much more likely to form bad technique, which causes you to ride tense and death grip the bars, which leads to losing control and crashing – especially if you're riding narrow trails with rocks, logs, lots of trees and elevation changes, and you're afraid of what's around the next corner.
I thought I was a good rider…
After riding for 7 years, I thought I was a fairly good trail rider.
That's when my good friend Jordan invited me to go trail riding with his family.
They were worried that I wouldn't be able to safely ride their trails – I felt kind of offended by that.
But, it turns out they were right – I sucked.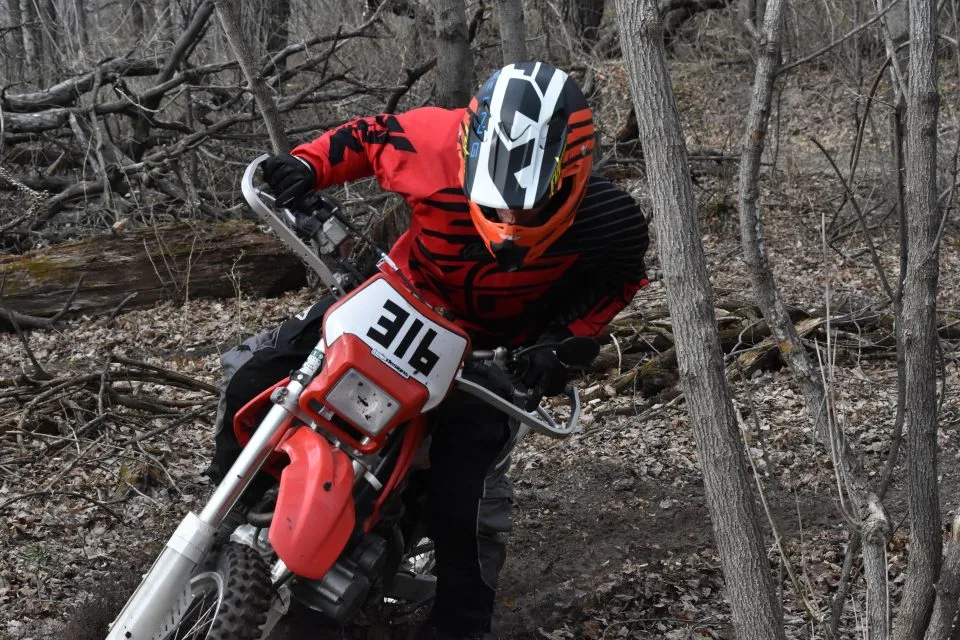 I lacked confidence riding tight trails and was intimidated when I came up to steep hills on the trail. I had the wrong bike for trail riding, which caused me to stall often and I lost my balance easily on off-camber corners with roots on the trail.
What I realized is that learning it all on my own and "just riding more" is not the best way to build my confidence to ride more challenging trails with my friends.
Can you do it? Yes, but I learned the hard way by making plenty of mistakes over the years that it takes A LOT longer trying to figure it out myself using free resources.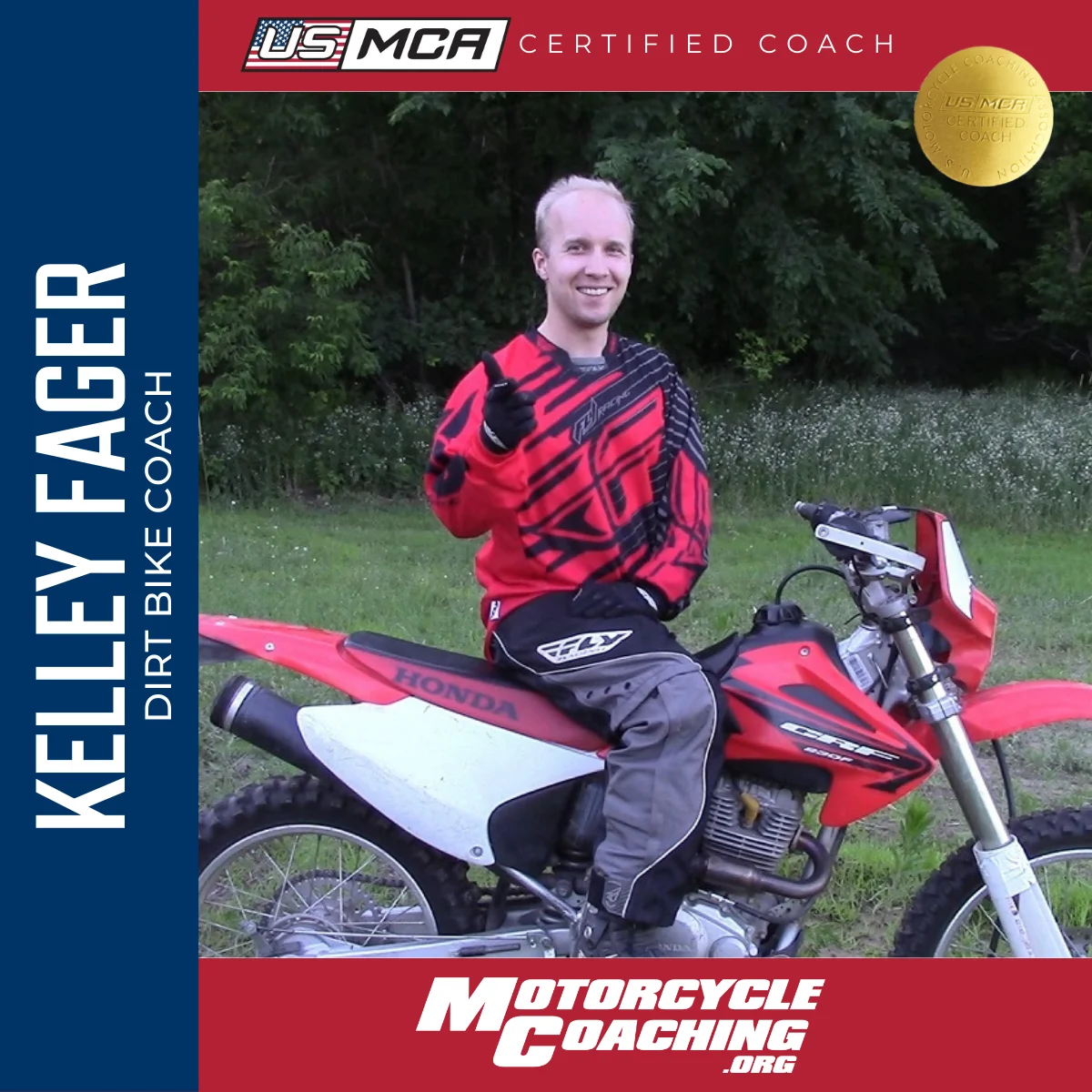 USMCA – Certified Coach!
I'm now officially certified through the United States Motorcycle Coaching Association on MotorcycleCoaching.org!
How to Become a Safe & Confident Trail Rider
A common mistake that people make is using poor body position, whether sitting or standing while riding.
For example, many riders put way too much weight on the handlebars with their arms and hands.
You may feel like you're in control, but if you have to keep both hands on the bars to stay in control, then you are using bad technique.
Don't worry, it's not you're fault – especially if you're used to sitting all the time on a street bike or bicycle.
Most people stand up too tall, causing you to be in an unbalanced riding position. Not only does it make it harder to use the throttle and controls, but you're more likely to be pushing and pulling on the bars.
When you use proper body position while sitting and standing, you'll be able to relax while staying in control, allowing you to handle your bike without getting exhausted as quickly so that you can enjoy riding more.
---
If you can relate to any of those feelings then…
Dirt Biking Made Easy For Beginners is 100% for you!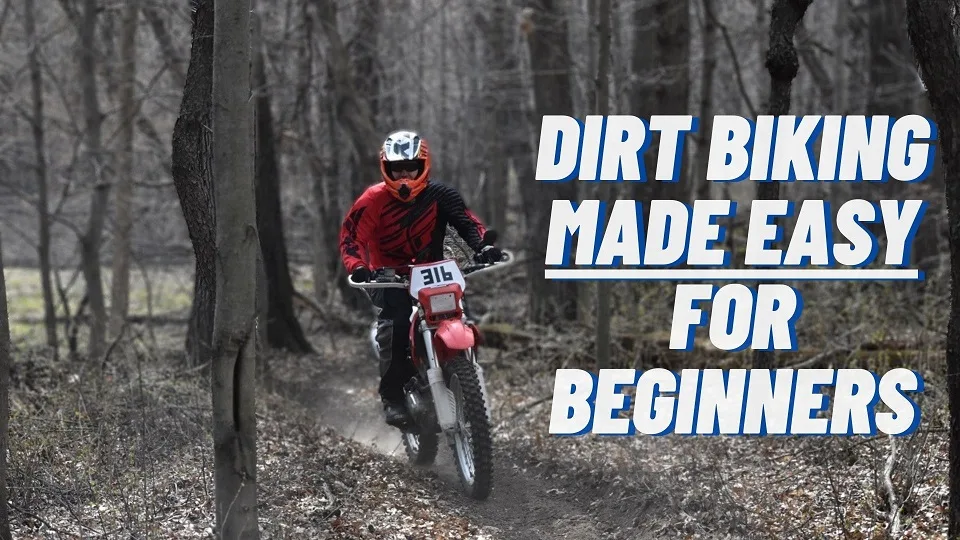 ---
It's Never Too Late to Start Riding
Maybe you're over 50 (or even 60) years old and want to start dirt bike riding – or you maybe you ride over 20 years ago and just got a new bike.
Since you're not as young and strong as you used to be, it's common to struggle on more difficult terrain, such as deep sand, tight trails, or steep hills. This causes you to get exhausted within the first hour of riding…
But if you're having any of these problems, then you're probably also struggling with wrist fatigue or dealing with other past injuries that will slow you down to a walking pace or force you to stop and rest.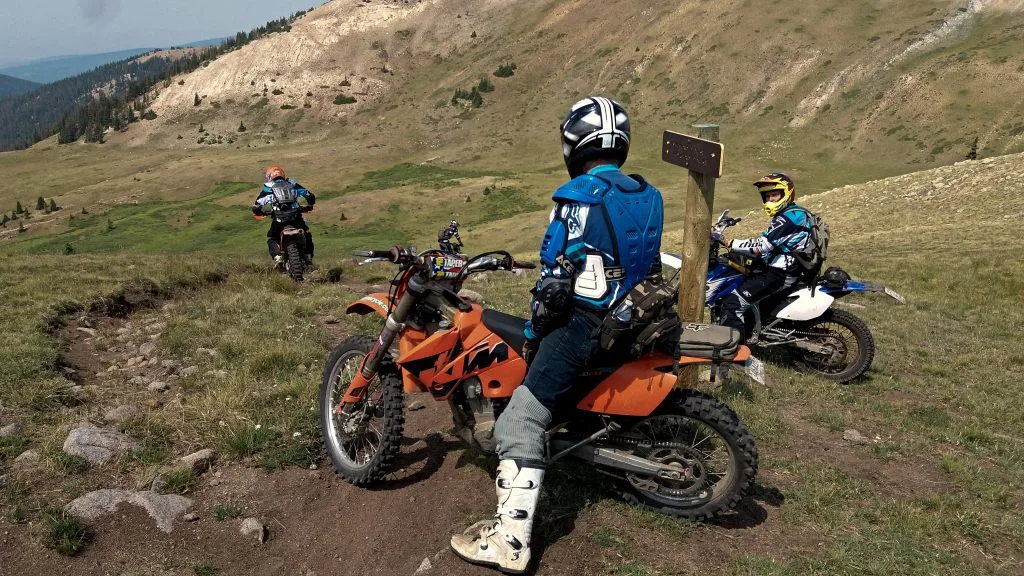 A common mistake is putting too much pressure on your arms and hands, causing you to tense up and "death grip" the bars.
If you want to prevent that so you don't lose control and bounce off a tree and whiskey-throttle into another tree, then you need to learn how to relax.
It starts with using your body efficiently so that you're not putting most of the weight and pressure on your hands.
Ready to learn how?
Click the button below to get "Dirt Biking Made Easy [For Beginners]"
---
Here's what you get in this video mini-course:
Learn All of The Essential Controls of A Motorcycle
How To Properly Get On & Balance A Dirt Bike Even If You're Short
How To Easily Kick Start A Dirt Bike Hot or Cold
How To Properly Warm Up Your Dirt Bike To Prevent Engine Seizure
How To Prevent Wheelies – Foolproof Method For Beginners
How To Easily Find Neutral On Any Bike
How To Efficiently Use The Clutch So You Don't Stall & Fall
How To Properly Shift Gears Without Destroying Your Engine
Proper Front Brake Technique To Improve Your Safety & Confidence
3 Throttle Control Techniques To Prevent Wheelies & Sliding Out
How To Properly Ride Standing On The Pegs With Comfort
All of these video lessons and more!
Bonus Guide: 4 Step Foolproof Formula To Choosing The Right Bike For You
Bonus Guide: What To Look For When Buying Your 1st Used Dirt Bike "Checklist Guide"
Bonus Guide: 10 Cheap Used Dirt Bikes For Beginners "Cheat Sheet"
Today's Price = Just $37
---
100% Money-Back Guarantee
If you are not 100% satisfied with the guide after 14 days, we will offer you a full refund.
---
What will you learn in the Dirt Biking Made Easy For Beginners Course?
The step-by-step system to safely & confidently riding a dirt bike, even if you've never been on a motorcycle before
The essential riding gear you need to stay safe without breaking the bank.
How to efficiently use the clutch, throttle and gears so that you stay in control while reducing fatigue
The foolproof strategy to operating your dirt bike so that it lasts longer before needing an expensive rebuild
How to comfortably stand up while riding with confidence without getting as physically exhausted
Build your confidence quicker so that you can enjoy riding with family and friends without the fear of getting hurt
Learn how to properly ride your dirt bike with simple drills in your own backyard
Choosing the right bike to give you confidence based on your size & budget
---
How Will This Help You?
This is the perfect course to get your feet wet riding off-road if you: have never ridden before, crashed and need to learn better safety techniques, don't have a riding school within reasonable driving distance, or have a kid/grandkid/or friend that's new to dirt biking – this will save you time and frustration from trying to teach them yourself!
You'll have the knowledge and confidence to start and ride a dirt bike without being nervous that you'll get crash hard
Avoid the most common mistakes "self-taught" beginners make when learning how to ride
You will potentially save thousands of dollars by preventing a bad accident that could cause an injury because you didn't know how to properly control the bike
You will have the confidence that you're getting started dirt biking on the proper path to becoming a better, safer, and faster rider in less time.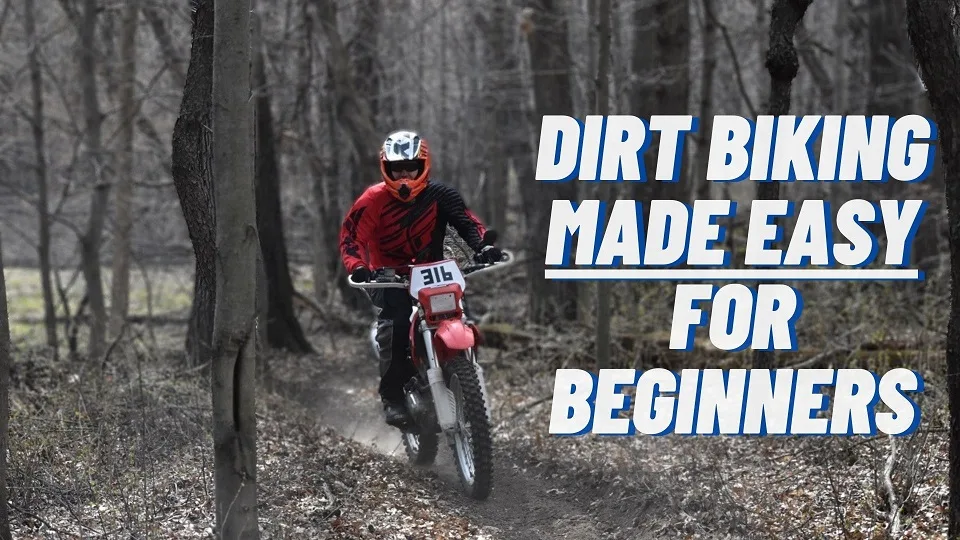 Today's Price = $37
---
How long do I get access to this video course?
You get lifetime access to this online riding course. It's a 1-time payment and you can keep watching it as many times as you want!
What if I don't have a bike yet?
No problem – there are bonus guides that show you how to pick the right bike based on your size and needs, as well as tips for getting a good deal on a reliable used dirt bike that can save you hundreds or thousands by staying away from bikes that will need to be rebuilt right away.
Where can I watch the video lessons?
It's an online course platform, so you can watch the videos and read the lessons anywhere that you have access to the internet on your phone, tablet, or computer/laptop.
Do I need to buy multiple courses for other family members?
Nope! Maybe you just bought yourself and your son or daughter a dirt bike to ride together (Awesome!) – you can use this course to learn together and teach other family members how to safely ride a dirt bike!
Is this a secure purchase?
Yes, you can use Paypal or a credit card with 100% confidence. The course software that I use is one of the top-rated platforms available.
---
---
100% Money Back Guarantee
If you are not 100% satisfied with the guide after 14 days, we will offer you a full refund.