If you buy or put a lot of hours on a 2-stroke motocross bike, chances are it will need the top-end replaced. A top-end rebuild is pretty easy to do on a two stroke engine, and the only special tool you'll need is a torque wrench for most dirt bikes. However, before tearing your engine apart, there's several signs that can tell you it has a worn top-end. If you have most or all of the symptoms listed below, you can count on replacing at least the piston and ring, and possibly a cylinder and head. Although, if none of the symptoms relate to your bike, there's a good chance it won't need a rebuild yet…
It Takes 50 Kicks To Start My Bike…
This is a common symptom for both two and four stroke dirt bikes. Unless you are riding in extreme climate, your bike shouldn't take more than a few kicks to get started. Certain bikes require more muscle and/or technique to get started, but a solid running engine will only take 1-3 kicks to start, hot or cold. On the flip side, just because your bike takes forever to start doesn't always indicate a worn top-end. For more info on a 'no-start', read this article on Diagnosing A No-Start. 
My Bike Is Gutless
Does your dirt bike feel like it lost its power-band(sarcasm)? A worn piston/ring will make the engine feel weak and low on power even when WOT (wide open throttle). This often happens after a top-end has so many hours on it, and will get worse/less powerful over time. A 2-stroke piston can last over a hundred hours if the bike was casually ridden and properly maintained, but an aggressive motocross racer can wear out a top-end in less than 20 hours of ride time.
This Thing Eats Spark Plugs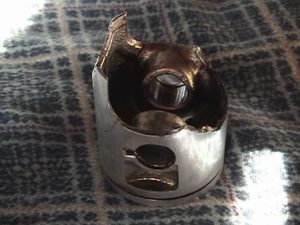 How often are you replacing the spark plug? If you have to put a new one in every ride, stop and inspect before riding again. If the jetting is right, a fouled spark plug can also be caused by a bad top-end or blow-by from the worn piston/ring/cylinder. This definitely indicates a new top-end is required, as well as a new spark plug. I have personally seen a CR80 that fouled plugs because of a bad top-end. It turned out that the piston was cracked and it eventually just lost compression. The cylinder was used again because it was surprisingly still in good shape! Here's some more causes of a fouled plug.
Look For Scratches
A scored piston or cylinder can be caused by multiple things. A lack of lubrication from not enough 2-stroke oil in the gas or lean jetting can damage the piston and cylinder, as well as the crank assembly and bearings. Scoring is caused by metal to metal contact, which is common on 2-strokes when they aren't warmed up properly. It makes me cringe when people try to warm up their dirt bike too quickly, and I see it quite often. A lot of top-end damage is done if you start your bike and immediately ride it hard or rev it without giving it enough time to warm up.
A piston has a certain amount of clearance between it and the cylinder wall. This clearance is for "growth", because it will get bigger as it heats up. The size difference isn't much, but if the piston heats up too quickly, it will expand faster and get too big to properly fit in the cylinder bore, thus creating scoring, and possibly a "cold seizure". Read the article in the link above to learn how to warm up your dirt bike without damaging anything. You should also note that forged pistons, as opposed to stock cast pistons, are slightly smaller in diameter and require more warm-up time to expand; so take extra precaution.
You may have to take the cylinder head off to get a good look at the cylinder walls to check for scoring, but there's a quick and dirty way to give you an idea of its condition without touching the engine itself. Just unbolt and remove the pipe/expansion chamber so you can look in the exhaust port of the engine. Shine a light in there and see if there's any noticeable scratches. You can look at the piston as well, but any scratches/scoring that looks like something you can feel with your finger nail is damage and will most likely need repair/replacement. If you can't see the cross-hatching on the cylinder walls then it is worn and probably out of spec.
My Bike Is Super Easy To Kick Over
If you don't know already, this isn't a good thing. While most 2-strokes are easier to kick over than a four-stroke dirt bike, you shouldn't be able to push the kick-start lever down with one finger. If it kicks over with next to no resistance, the top-end is probably down on compression. Low compression will usually go hand-in-hand with taking a lot of kicks to start, as well as a weak engine.
A new piston ring may be the only thing that needs replacing if the piston and cylinder are still in good shape. Rings only last so long and eventually go out of spec (refer to your manual). If you have the cylinder off, check the ring gap with gauges and compare to what the manual says. If the gap is too big, replace the ring with a new one. You can usually re-ring a piston once before needing a new piston as long as everything else checks out.
These tips are only guidelines. Nothing is set in stone, as every bike is different. Just because your bike is hard to start doesn't mean it will always need a new top-end. It could be something completely different, such as a dirty carburetor because the bike hasn't been started for months. I put this list together because these are the most common symptoms of a bad top-end when all of the simple problems have already been checked.
Have fun, and ride safe!
-Tom Stark