How To Get More Girls Into Dirt Biking
Girls can ride dirt bikes too! Whether it's your wife, girlfriend or daughter, having your lady support your riding is one thing, but getting her to ride with you is an awesome way to build your relationship together. 
If you're looking for the best way to teach a girl how to ride and get her into dirt bike riding, this is the most important article you'll read!
I've taught many girls how to safely ride a dirt bike; some of them weren't even motivated to ride, which made it seem like it would be harder!
But, with the right process, you can teach virtually any girl how to ride if they just give you one chance…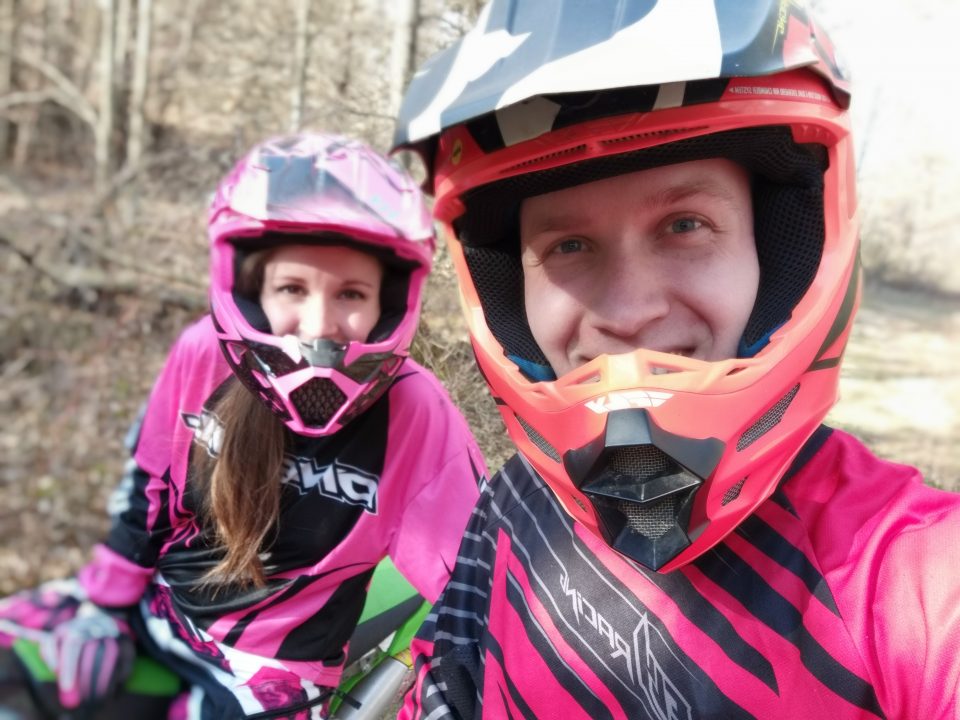 First and foremost
The first thing you need to do, especially if they're nervous or scared, is to make her feel safe and confident. 
This means explaining every little detail and what she can expect at each point in the process. 
Start her on the right dirt bike
There's few quicker ways to scare your girl away from riding dirt bikes than to throw her on a bike that she can't handle. I've seen too many videos of girls getting on a dirt bike that's way too big and powerful because her boyfriend or husband tells her to, not knowing that she will involuntarily go "for a ride"…
Want to keep her riding? Start her on a dirt bike that is short enough to touch the ground with at least one foot, for one. 
And then it must also be a beginner friendly bike. This means that it's low on power, making it smooth and easy to ride. 
She must wear proper safety gear
Tennis shoes and a poorly fitted helmet are not safe. Maybe you don't want to invest in a full set of riding gear just to get started, but having the bare essentials can go a long way in not only protecting your girl if she falls, but she'll also more than likely feel safer. 
Here's my bare minimum amount of riding gear I recommend for beginners:
Proper/snug fitting helmet
Riding boots or above the ankle protective boots
Jeans/long sleeves
Riding/mechanic gloves that fit well
Elbow & knee guards and/or full body armor is also recommended
Teach her how to ride BEFORE riding
"Here's the clutch, throttle, and brake, now go!"
If that's how you taught your lady to ride, shame on you! Especially if she's never ridden any type of motorcycle, let alone one with a clutch. There's a steep learning curve for new riders.
However, if you show her the proper steps and make sure she understands them, the whole process of learning to ride can be very quick and simple.
Not everyone learns the same, so if she doesn't understand a concept or how something works, you need to figure out how to show or explain it in a way that will make sense to her.
For example:
Finding the friction zone of using the clutch to start moving the bike might not make sense to her using words. But, if you show her how to do it, then it might be easier to digest and repeat it for herself.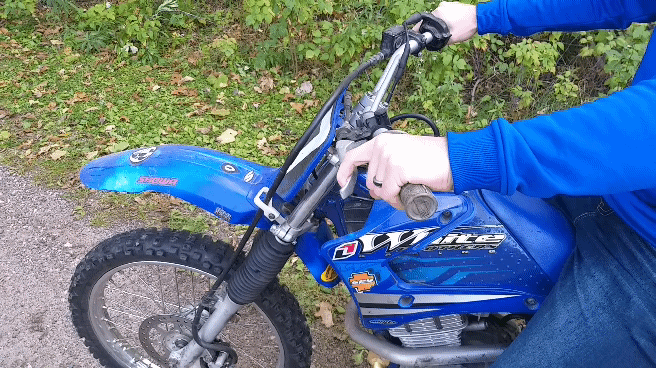 Reinforce and encourage good Techniques
Alright, so hopefully at this point your woman has started actually riding around the yard. She needs to hear some encouragement for her first success!
Don't worry about the poor technique, like where she's sitting on the seat or putting her legs. At least not yet!
Instead, tell her what she's doing right. That will give her a huge boost of confidence and motivation to keep going. (Ask me how I know!)
Be patient
Okay, maybe your girl is still struggling. Not everyone grew up riding like you, so you need to give her grace.
She's not going to be up close to your speed within a week, let alone a few months. 
You're going to have to sacrifice some of your fun/aggressive riding so that she can enjoy riding with YOU if she wants to. 
Don't get mad
If she hasn't given up yet, that's awesome! But even if you've gotten her started riding, the next biggest factor to keeping her motivated to ride is your attitude. 
Is she asking questions that you think are dumb? Is she too scared to do something on the bike that you told her to do? How about repeating the same mistake over and over again?
STOP.
This is where you need to keep your cool.
The worst thing you can do is lose your temper and get mad at her for not doing what you expect. This will only frustrate her more than she already is with her problem. 
Go back to the steps about being patient and encouraging. 
Maybe even let her take a break from riding a dirt bike and try again in a couple weeks or perhaps months when she's ready and motivated. 
Ask for her opinion when possible
Communication is key with every relationship if you want it to be healthy. This is especially true when teaching someone how to ride a dirt bike. 
Ask your wife, daughter, or lady friend questions throughout the process to figure out if she's actually understanding everything. This could be asking open-ended questions or her opinion on how something works on the bike.
Maybe she has some good insight that will help you teach her more efficiently. Or maybe she'll even teach you something that you didn't think of!
Don't force it
In the end, even if you've done everything right, she'll either enjoy riding with you for years to come, or simply decide it's just not her thing.  
She may even come back to it somewhere down the road… but if not, she'll at least have a much better perspective of this awesome sport and hopefully support and encourage your passion for riding. 
Or Have Her Take Riding Lessons From An Instructor
Are you a guy and found yourself struggling to read this because you know you won't have the patience to teach your girl? 
Don't worry, there's a way that she can quickly learn how to ride safely and confidently. Click here to learn more about the Virtual Dirt Biker School.