Better Power & Reliability: 2 Stroke Jetting Guide
What If You Could Get More Power and Better Reliability From Your 2 Stroke Without Buying Aftermarket Parts?
Download NOW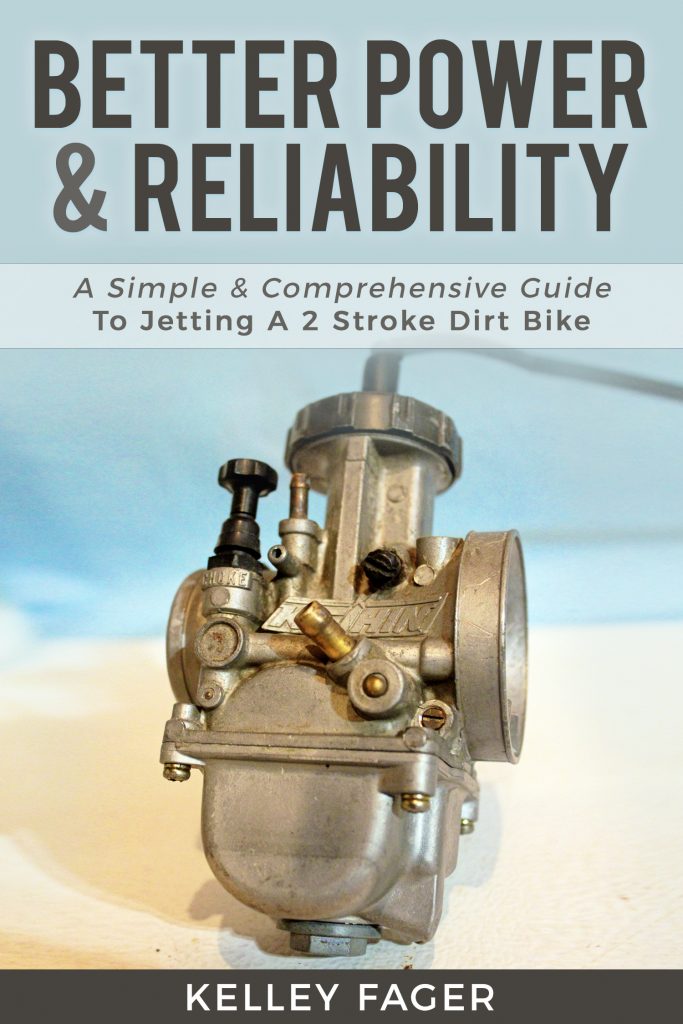 Is your 2 stroke dirt bike hard to start or bogging? Are you looking for a cheap and easy way to get more power?
I used to be scared of doing any kind of work on one of my dirt bike carburetors.
What if… I made a mistake and caused a major problem that blows the engine up?!
Well, eventually I had to make some changes if I wanted my 2 stroke to run properly, especially at higher elevation.
Fast forward to today and I can say that jetting a dirt bike carb is not as mysterious and intimidating as I once thought. Now I tune every new bike I get for maximum efficiency, power, and throttle response.
This guide goes through every step to make it easy, as well as building your confidence and understanding. Not only will you be shown how to make the right changes, but you'll also learn why each change is made.
Learn how to get more power & easy starts for your 2 stroke without draining your wallet with my self-taught guide and use it on any device!
Potential Benefits:
Easy starts
More Power
Better Throttle Response
Ride Faster & Longer
Better Fuel Economy
Higher Reliability
Cheaper Than A Pipe Upgrade!
Get The Most Power With This Jetting Guide After Adding A Pipe
Quick Results
And More…
Download NOW
I used to be intimidated by "jetting". I had never done it and thought I was going to completely mess up my dirt bike if I changed anything. 
But now, after just taking some time to learn what each change makes, I use this guide to get my dirt bikes running great, especially when I ride at different elevation!
What You'll Get In This Guide:
Step by step guide on how to tune each jet circuit that is complete and easy to follow
My secret hacks to make the process easier
Recommended tools I use
BONUS #1: Free Troubleshooting Jetting Guide
BONUS #2: Free Personal Jetting Chart To Record Your Settings For Different Elevations
---
Ready To Make Your 2 Stroke Run Better With Easy Starts & Better Power?
Click the Button Below to get your simple & comprehensive guide now!
Download NOW
F.A.Q.
How Much Does It Cost?

One time payment of US $39

Is There A Money-Back Guarantee?

Absolutely. A lot of work has been put into creating this guide to make it complete, yet easy to read and understand to make your dirt bike run better in very little time. But if, for some reason, you don't find it helpful, you'll get your money back.

What Device Can I Read This eBook On?

You can read this on your desktop, laptop, or mobile device. Take your smartphone out with you when you start tuning your dirt bike!

How Do I Download The eBook?

Once your payment is processed, you'll receive an email which includes a link to download your purchase(s). If you don't get an email after you purchase, check your spam folder. If it's not there, send an email to kelley.fager@motocrosshideout.com.

Is My Credit Card Secure?

100% yes. We've partnered with Stripe and PayPal to handle the billing, which are 2 of the safest and secure ways to process payments. We take every step available to us to help keep your transaction safe.